Human territory follows a structure: Galaxy ->Region -> Star cluster -> Star Sector -> State -> Star System -> Planet.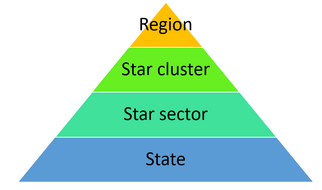 For example: Human Galaxy->Galactic Rim-> Yeina Star Cluster -> Komodo Star Sector -> Bright Republic -> Unnamed Star System -> Cloudy Curtain ( Ves' home)
There are 2 galaxies: the human galaxy, and the Red Ocean:
Human Galaxy: conquered during the Age of Conquer, the closest to the center the richer.
Red Ocean galaxy : a new galaxy with riches. Very far away, reached with teleport gates.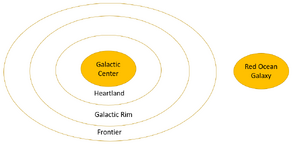 Also, the human galaxy is divided in 4 regions:
Galactic Center: the richest and most advanced and ancient part of human territory. Center of human galaxy, has 1st tier states
Heartland: middle class part of the galaxy
Galactic Rim: The poorest part of human territory. Most of the story happens here
Frontier: at the borders of civilized human space. Dominated by pirates.
Has 3 star sectors
Majestic Teal
Vicious Mountain
The story is focused in Komodo.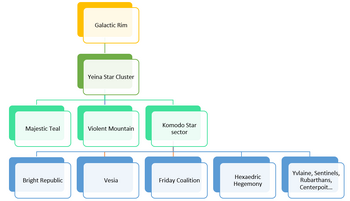 Frontier (outside human territory)
[
edit
|
edit source
]
Megalodon planet

Faris Star region ( chapter 640): it is the chunk of space adjacent to the Komodo Star Sector, in the frontier
Red Ocean Dwarf Galaxy: ch 1622, phasewater
[
edit
|
edit source
]
Community content is available under
CC-BY-SA
unless otherwise noted.